Laptop FAN Repair & Replacement Service in Vijayawada
Home Service Available in Vijayawada,Guntur,Tenali and all over Andhra Pradesh
Here at sri jishnu communications, we provide fast and forward Laptop fan repair service to home and business users. Whereas a spinning CPU fan manages cooling for amazing operations in a laptop while faulty leads to the big damages- it is unquestionably true. For such unpleasant situations you need a quick laptop fan repair service that is where our doorstep laptop repair service name comes in-"SJC".
The brain of computer system – CPU handles millions of instructions every second. All that functioning emitted a large amount of heat which needs to be cool. A CPU fan extracts warm air from the system that processors or other components release during operations and also fetches cooling air from the outside. Since CPU fans maintain the operating temperature and directly responsible for the performance of the processor. Owing to this, it is necessary to replace or repair a broken fan at once if it stopped working.
Perhaps, you don't know but overheat can cause some serious destructionson the motherboard and sometimes it may be irreparable for your valuable machines – MacBook, iMac, laptop or whatever you are using at home, office or workplace.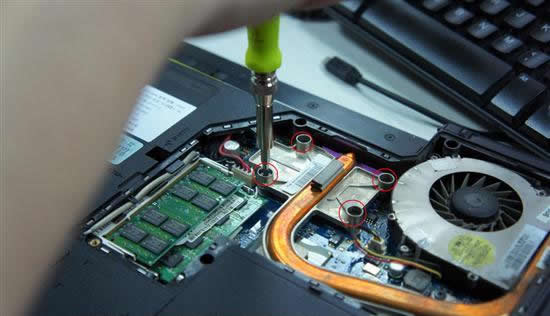 We offer fast and efficient Laptop fan repair at home service for all models of systems at a fair price. Either your laptop is overheating at regular interval of times or fan is making noises or squeaking sounds. Need not to worry; we are here to stop such unexpected event. Make a call to our experienced engineers to know the cause of the problem you are coping with. They have more than over 13 years experience in repairing and servicing laptop's fans. It doesn't matter whatever the issue-either big or nominal your laptop experiences, they will fix it honestly. Once it's done, Laptop will run faster and smoother as new one.
We provide Laptop Repair home service in your locality each and every day of the week. You may approach us at- 9642291555, either for Laptop fan replacement cost or Laptop fan repair at home service or to access fan service in your area i.e. Laptop fan repair near me. We also offer pick and drop facility to our clients at their locations across the Vijayawada,Guntur,Eluru,Tenali and all over andhra pradesh.