sri jihsnu communications offers malware and virus removal from computers and laptops in Vijayawada. We help you in getting your virus infected computer/laptop back to their working condition. We offer reliable and best computer virus removal services across Vijayawada, Eluru,Tenali, Guntur . We remove computer viruses, Trojans and malware's that attack your computer and disrupt its proper working. These viruses are harmful to your data and many a times tries to steal your valuable information like personal and credit card details. A case of virus should be dealt with as soon as possible because all your data is at risk of getting corrupted.
In today's digital world, we exchange information through various means every single day. From personal/professional email to sharing information on social sites, millions of bytes of data are exchanged around the world every minute. Millions of webpages are viewed daily and even more files are downloaded. Hackers try to exploit these ways and spread many viruses and Trojans through emails and hidden files. Hackers even develop new ways to easily bypass the security and firewalls to infect computer/laptops. If you exchange a lot of emails or files daily, your system is bound to get infected by a computer virus sooner or later.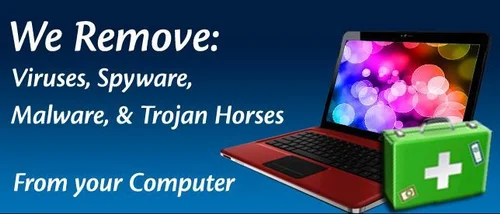 f your laptop gets infected, just contact Sri jishnu communications and we will service your laptop to remove all viruses and malware's. We also do house visit and onsite repairs so that you are freed from the hassle of going to service center and wasting time. Apart from virus and PC malware removal in Vijayawada, Computer Repair Home also offers  onsite laptop repairs, windows repair and installation, hard drive data recovery, Apple laptop repairing, laptop screen repairing and more. Just contact SJC to ask for a site visit for laptop repairing and virus removal in Vijayawada,Guntur,Tenali,Eluru.