SJC also provides windows installation in laptops (PC) across in Vijayawada,Eluru,Tenali,Guntur. We provide our services for windows operating system repair and installation in laptops and computer at very reasonable rates. We are an experienced computer repair center with years of experience in repairing all kinds of problems in computer and laptops. We provide solutions for all kinds of hardware and software issues. We have a long list of clients who have used our laptop repair services to get their laptops repaired. We serve all parts of vijayawada and also provide onsite laptop repairs for homes and offices.
Windows is a very popular computer operating system around the world. Many computer and laptop manufacturing companies choose windows as their default operating system. It's easy to use interface makes it a prime choice for personal and office use in many countries. But at times the windows files are corrupted due to virus or malware infection and thus the windows operating system stops working properly. To overcome this, either the windows operating system must be repaired or it must be reinstalled. Sri Jishnu communations  can help you get your windows operating system working properly back again. Windows operating system installation is also required when you want to upgrade your laptop's operating system to a high version.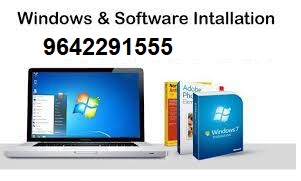 We provide genuine windows operating system installation to make your machine give its best performance. To get the best quote on corrupt laptop windows repair and installation in Vijayawada,Guntur,Eluru Tenali, just drop us an email or call us @9642291555. Apart from Windows installation, SJC also provides its services for various other computer/laptop problems like virus removal, data recovery, hardware repair like motherboard, keyboard, screen, etc. Just contact us to get rid of all the computer/laptop related issues and to get best laptop repair services.